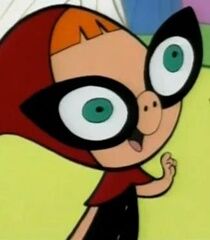 Red (voiced by Candi Milo) is an Recurring character in the show, she has caused trouble to Little dog and Big dog.
She is a parody of Little Red Riding Hood, is a small, meek little girl that the dogs often encounter. When she speaks, she shouts one word in the sentence very loudly compared to the quiet tone of voice she usually has.
The dogs usually just join her for food. She needs glasses and even with them, her sight is far from 20/20 when she Can not See Where she is going. On one occasion the Dogs have shown fear and anger towards her and the Little Dog even called her an evil little girl, one of the few times the Little Dog shows genuine intelligence.
Gallery
[
]
Trivia

[

]
Something I call "The red trilogy" features all three red episodes.